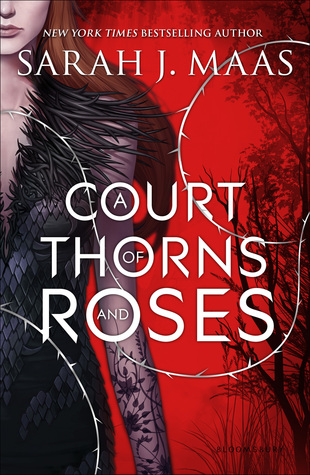 Synopsis:
When nineteen-year-old huntress Feyre kills a wolf in the woods, a beast-like creature arrives to demand retribution for it. Dragged to a treacherous magical land she only knows about from legends, Feyre discovers that her captor is not an animal, but Tamlin—one of the lethal, immortal faeries who once ruled their world.
As she dwells on his estate, her feelings for Tamlin transform from icy hostility into a fiery passion that burns through every lie and warning she's been told about the beautiful, dangerous world of the Fae. But an ancient, wicked shadow grows over the faerie lands, and Feyre must find a way to stop it . . . or doom Tamlin—and his world—forever.
Review:
If you have seen my review on Throne of Glass you may have already guessed that Maas is one of my favourite writers. So of course, the second I knew about her new series, I begged and begged Bloomsbury for it. When I got a copy, I devoured it. I ignored my family for the two days I was reading, and when I finished…I went back and read it again.
Everyone knows the basic storyline of Beauty and the Beast. Woman goes to castle. Is scared by Beast. He asks her to marry him every day (okay, thats kinda the original, now its just falling in love) she says no, he makes her leave, she comes back happy ever after.
So going through this book, I did know the basis of how it would play out. Or, I thought I did. But even with the knowledge of the fairytale, I did not expect this book to be so amazing. You forget what you think will happen and the story will draw you in completely, until you are standing next to Feyre with your hands over your mouth in shock, hoping everything will turn out well.
I love the characters in this books. From Feyre, the strong stubborn hunter who you love from the first page, to the seemingly cold hearted Tamlin, and to the mysterious Rhysand (who, I admit, I completely love).
The fae are a wonderful bunch. They had been separate from the Mortals for long enough that they were all seen to be evil and the same, but as you step into the pages of this book, you realise there is more to them all that meets the eye.
I said it about Throne of Glass, how I wished it was acceptable to chase people down roads throwing books at them to read, and I have come to the realisation that I wish you could do this with all Sarah's books. She has this utterly stunning way of writing, where you feel as if you have stepped into the book and fallen onto the ground below the characters feet. It is a talent that not many authors have, but Sarah does, and with every book I read from her, I wish she could just write more. And more.
At this point, I think I would read anything by this woman.